About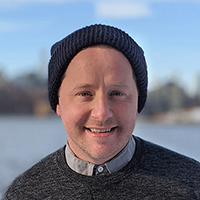 I'm a full-stack web developer, though I focus more on the front end. I build websites for positive social impact. My aim is to craft simple, beautiful, and well-considered products. I'm into data visualization, typography, and all forms of design as well as science, math, art, philosophy, psychology and pretty much every other subject. I enjoy running, playing soccer, reading non-fiction, learning about theoretical physics, analyzing works of art, organizing everything, making lists, making smoothies, watching old movies, listening to podcasts, cooking Mediterranean to music, volunteering, and petting any dog I meet. My last name is pronounced HI•ber•ger but I'm not a stickler.
The Short List
Political Cause: electoral reform to improve our democracy
Global Cause: addressing climate change
Side Interest: behavioral economics
Minor Accomplishment: I've run two marathons.
Hidden Talent: I can recite Hamlet's "To be or not to be" soliloquy.
Favorite Pastime: exploring a new city
Guilty Pleasure: Broadway musicals
Avocation: I keep lists of good conversation topics, fun facts, side project ideas, and so much more.